Group members
(In order of seniority within the group)
Julien Vuagniaux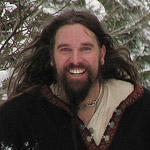 As a professional saddler, I fabricate leather objects such as bags, cases for ancient musical instruments and I also work often in historical reconstitution, demonstrating leather work in a 15th century setting during medieval festivals or castle visits before turning my sights on a viking journey onboard Fenrir. Known in the viking life as Aasmund.
Florence Sainsard-Vuagniaux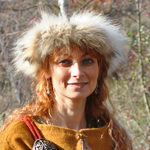 I am running a shop where you can find Faeries related items as well as historical crafts; I also make historical and fantasy costumes and I have been on many historical markets, showing the ancient art of Illuminated Painting. Known in the viking life as Solveig.
Yasmine Dufour Mayor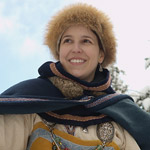 I have been interested in Viking Age since I was around 15 years old and I read almost every saga that could be found in French translation. I have learned to fabricate silver chainmail jewellery and vikingestrik, which I make and sell on markets and on internet. I also work with other ancient techniques such as tablet weaving or nålbindning. Known in the viking life as Ingunn.
Patrice Mayor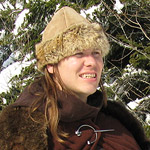 My wife Yasmine has initiated me to the viking world and since we met Julien, we have been sharing and living our passion for reenactment. On the markets, I enjoy working on wood to make and decorate objects, using the tools and techniques of ancient times. Known in the viking life as Ketill.
---
Mercenaries
(Friends of the group, occasionally invited to share some viking adventures)
Salvo Palermo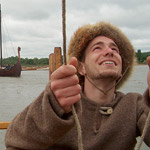 I met Julien on a ship and we went for several ship races on the lake Léman together. Then he invited me on his viking ship and told me about his journeys. As I was interested in this life, I joined the group to be a part of it. Known in the viking life as Haakon.
Anna Mrazek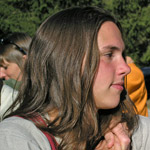 My boyfriend Salvo introduced me to the other members of the group. I have been told a lot about the various experiences they lived and it sounds real fun. What's more, I think that it is a very interesting period and a setting which appeals to me. I look forward to sharing their next adventures. Being a newcomer, I still have no viking name.
Joane Latty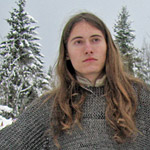 Novice in viking reenactment, I have been interested in medieval world since childhood before developing a special interest for the Scandinavians. I am also passionate about martial arts and I like nothing more than take up the sword to fight with my friends. But I appreciate the ancient crafts, too, willingly giving a hand to my craftsmen friends and making my own equipment as much as possible. Finally, there is no saga or book about the Vikings that doesn't catch my attention and asks to be read, unless it is already done. In the viking world, I am called Stígandi.